❣ People ❣ Planet ❣ Principles
One World. One Chance. Vote Green Party!
Midterm elections are a critical opportunity to break the power of the political duopoly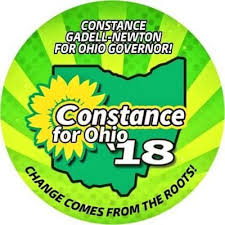 State Green Parties are running statewide candidates in the midterm elections in many states to gain new ballot lines and defend existing ones. Achieving the votes required for ballot access in elections for statewide office is essential for the Green Party's political survival because it enables other Green Party candidates to run with lower petition requirements, or without petitioning. In the 2016 general election, the Green Party had ballot lines in 44 states plus DC, including the seven largest states. Voters in three additional states could write in the presidential candidate, Jill Stein. Snapshots of some of these ballot access–critical races are below.
OHIO: Constance Gadell-Newton and Dr. Brett Joseph are running for Governor and Lt. Governor, respectively, and need 3% of the vote to retain ballot status for the Ohio Green Party.  Gadell-Newton is the only woman running for governor in Ohio.